Maheshwar town is in Khargone district of Madhya Pradesh state, in central India. It is located 13 km east of National Highway 3 (Dhamnod town) and 90 km south of Indore, the commercial capital of the state. The town lies on the north bank of the Narmada River.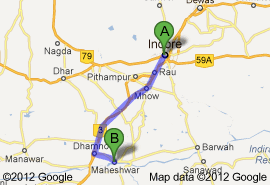 Homa Therapy Goshala is situated approximately 4 km further east from Maheshwar town and is located on the map below at marker A.
Reaching Maheshwar by Road
Indore to Maheshwar – Approximate distance 90 km
Bhopal to Maheshwar – Approximate distance 285 km
Dhamnod to Maheshwar – Approximate distance 13 km
Reaching Maheshwar by Bus
Regular public and private bus services are available from Maheshwar to many parts of the state. Maheshwar is bus connected with
Barwaha (39 km)
Indore (90 km)
Khandwa (110 km)
Dhar (33 km)
Dhamnod (13 km)
One can also take a taxi from any of these places to reach Maheshwar.
Reaching Maheshwar by Train
Barwaha is the nearest railway station, which is at a distance of 39 km from Maheshwar. Indore is a main railway station which is reached from Mumbai by the Avantika Express. Alternatively several express trains ply the Mumbai-Khandwa route.
Reaching Maheshwar by Air
The nearest airport is Devi Ahilyabai Holkar Airport in Indore, which is about 90 km away. It has daily connecting flights from Mumbai, New Delhi and several other Indian cities.